Dear Body,

For almost a year now, I have taken more care of you than I probably ever have in my entire life. I've fed you good, nutritious foods. I'm no longer poisoning you with chemicals and artificial ingredients on a regular basis. Instead, I'm giving you real food. I'm giving you all the fuel you need to function at your best.

And you have thanked me.

I have more energy. I feel better. I look better.

​Ten months ago, before I started this journey, y

ou were used to the routine of life. You were reliable.

---

You did as I asked. But what did I ever do to ensure you would always stay that way? That you would always keep running at optimum speed? Very little. At the end of the day, I do not get to trade you in. I will never be able to get a newer model or a better engine. I neglected you, and for that I am sorry because you have served me well throughout the years, asking very little in return. But through this process, I have learned a valuable lesson.

For almost a year now, I have exercised your muscles. I have worked out almost daily for the past 10 months. It was a shock at first, I know. I remember those first few days... I remember how unhappy you were, and you let me know it. Your muscles cried because you were not used to pushing yourself to the limits and making yourself stronger. Together we fought, we pushed, we worked and 10 months later, I am grateful for that, because...

I have more energy. I feel better. I look better.

I am stronger.

Throughout this journey, there were a few times where I wanted to give up. There were times when sitting on the couch and eating food from a box with an expiration date 2 years out seemed easier, but you know what? We persevered. I was disciplined and stuck to what I knew would make us a better, healthier, happier version of ourselves at the end of the day, and I'm so glad I did because, today...

You have more energy. You feel better. You look better. And you are stronger.

I pushed you to the limits, and you exceeded my every expectation by responding. I am proud of what you accomplished. I love how we feel powerful and strong. I love how you have transformed....

But you are not perfect... You have stretch marks and belly skin that sags when you bend over, that I know will never go completely back to normal because you brought two children into this world. Despite the muscle you've gained and inches you've lost, you have dimples in places I wished you didn't, freckles, and wrinkles... But you know what? Those are all signs of where you've been and what you've accomplished. And I can be proud of that, too. Because in all your imperfections exist the road map of your life. And in that road map exists perfection because it is your story. It is unique. It is what makes you,

you

. And in all those imperfections, I know where you've been and where you're going. And we're only going up from here.
Powered by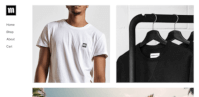 Create your own unique website with customizable templates.