Yep. This shirt is true. I actually had a cheat night last night and ate quite a bit of pizza, in fact. And I'm not ashamed to say it, either! Actually, quite the opposite. And today, I'm back on track and ready to roll, excited to fill myself up with all the good fuel!! I had my

blueberry oat

s for breakfast and am getting ready for a killer round of Core de Force as we speak.

But I wanted to pop on here real quick because there are some important things we need reminded of sometimes.

Life is about moderation. How many times have you heard that? Well, you've probably heard it a lot because it's true. I mean, if you think about it, a lot of things in life are not good for you in large doses. Does that mean you can't enjoy them? Nope.

---

Break out the breath mints because onions are in! Did you know that onions actually have a ton of health benefits? Well, they do! I did the research and now I'm going to break it down for you in simple terms, without the scientific crap. Here's why you should be bringing more onions back into your diet.

Eating well and living a healthier lifestyle doesn't need to be complicated or tasteless! You don't have to use only light or healthy recipes. You can often find ways to make your old recipes or foods you love work, while making them better for you. Here are some food swaps you can use to make your dishes and meals healthier!
Powered by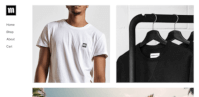 Create your own unique website with customizable templates.