So, I wanted to share one of my favorite breakfast's. Lately, I'm obsessed with it. The best part about it is that it's super yummy, quick, easy and nutritious! Blueberry Oatmeal. Yum!

Eating well and living a healthier lifestyle doesn't need to be complicated or tasteless! You don't have to use only light or healthy recipes. You can often find ways to make your old recipes or foods you love work, while making them better for you. Here are some food swaps you can use to make your dishes and meals healthier!

So, I wanted to make a different salad, since I was getting tired of a regular garden salad but didn't want to pack on too many "extras." I decided on beet salad. This salad combines arugula, beets, blue cheese, and toasted walnuts. The nice thing about beets are that the taste and texture of canned versus freshly cooked is almost identical, making the canned variety a super quick and easy substitute.
Powered by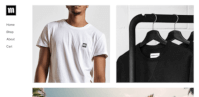 Create your own unique website with customizable templates.